Photography
The British Museum is one of the world-class museums. Except for the Louvre in Paris, I can't think of any other place with such an impressive collection of world-famous artifacts. It's consistently ranked Britain's #1 tourist attraction; last year almost 7 million people came to see such famous artifacts as the Rosetta Stone and the Parthenon Marbles, Greek and Roman sculptures, golden treasures from around the world, Samurai armor, an Easter Island Moai, and much more.
The Tower of London has been many things in its thousand-year history. Built immediately after the Norman conquest, its first incarnation was as a symbol of power, a proto-Death Star from which William the Conqueror could exert control over his new capital.
William's successors were increasingly reluctant to live in central London, never more than a drawbridge away from the fickle mob. As the monarchy left for greener (and more isolated) pastures, the Tower was turned to darker purposes; it served as an armory, a prison, an execution ground, and surprisingly, a zoo.
For no good reason other than it's January, here are three photos from my trip to London last May. What a different time that was. Pre-Brexit, Pre-Trump, everything just seemed so normal. Now it's 17 degrees and I'm stuck at home drinking tea and remembering warmer, better days.
City on the Thames
Here's an interesting comparison. I took the photo below on my first trip to London in 2003. It's the same scene, from essentially the same spot (looking west from Tower Bridge), but a lot has changed. That big pointy building (The Shard) wasn't there before. Neither was London City Hall (the half-circle shaped building on the left), along with a lot of the buildings in the background.
I'd also like to think that the 2016 photo isn't half as terrible as the one I took with my first digital camera and its mighty 2x optical zoom!
Houses of Parliament, Morning
Parliament and Westminster are so damn British it hurts. You walk around and see all these things that couldn't exist anywhere else, that you've seen a hundred times on TV and on movies, but there it is. This was taken early in the morning, before the stream of tourists had really coalesced, from a quiet embankment across the Thames in front of St. Thomas' Hospital Gardens. Off to our right, just off camera, an Asian couple were having their wedding portraits taken.
London from the Eye
Last time I was in London, I absolutely refused to go on the Eye. I probably ranted about how it was ridiculous to pay £9 to ride on a damn Ferris wheel. This time around, admission was something like £33. We paid it, plus extra to go in the "fast-pass" line. This is what happens when you have more money than you have time. It was still just a damn Ferris wheel.
Let's say, hypothetically, that I returned from London two weeks ago and I've yet to post anything on Flickr. Is it too late to say that I "just got back" and I'm working on it?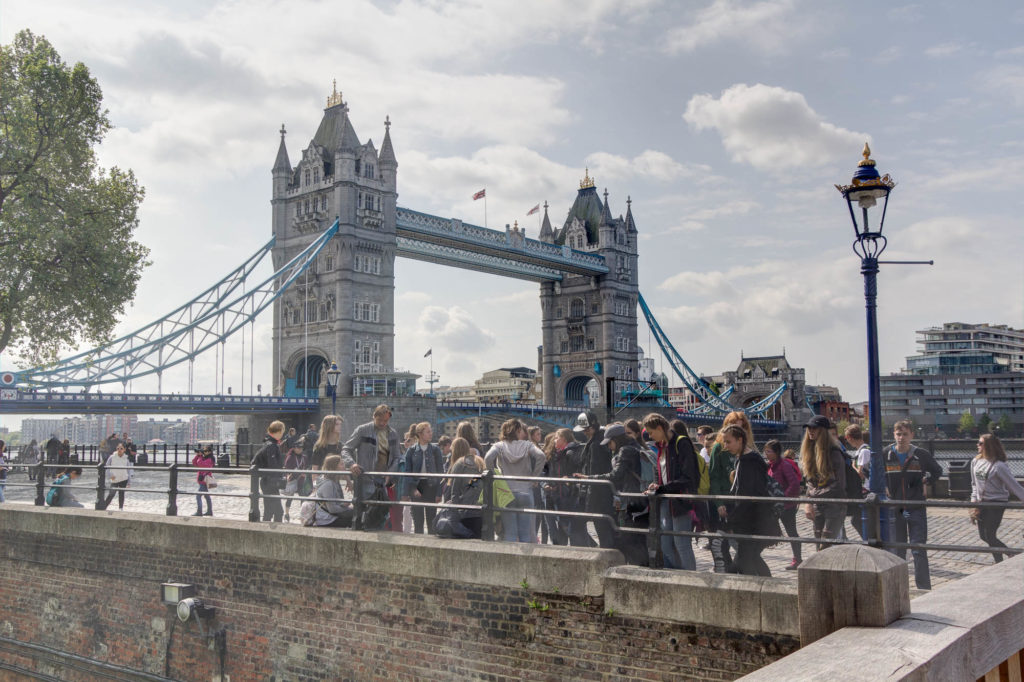 No real story here, just a couple of nice shots from a recent trip to the Detroit Institute of Arts. I decided to follow up on an experiment from a few years back and shoot only with my 50mm f/1.8 lens. It was a gloomy, overcast day and the finished photos evoked the right mood when desatured and split-toned.
November 1 (known as el Dia de los Fieles Difuntos, or "the day of the departed faithful") was our final and biggest celebration of the week. After a late breakfast, our group started queuing up outside a spare room on the second floor of the hotel. Our guide Juan Carlos had arranged a face painter to get us ready for the big parade in the village of San Pablo Etla.
Our face painter knew his stuff. He arrived with a box of paints and a cellphone full of samples, and he managed to make everyone look amazing for 200 pesos, or about $12.50 apiece.
So many people wanted in that our artist called for backup. An assistant came and they painted for an hour or two, starting with the tourists and ending with the hotel staff.
Late in the afternoon we piled into a van and headed for Etla, a village northwest of the city. There were plenty of people already there and the band was just starting to play. Girls in colorful dresses twirled and danced with a man in a rubber mask and safari clothes. I asked Juan Carlos and he said, "That is El Chapo". I didn't see it.
The parade left the square and proceeded down the main street of town. We shuffled along slowly, leaving the band behind, then picking it up again. As we passed people's houses, they came outside and joined in.
We stopped regularly to take shots of mezcal from the bottles we'd brought, and when we ran out, friendly people appeared with more. A man I didn't know handed me a can of beer, and later a girl arrived with a disposable plastic water bottle with the label soaked off, filled to the brim with homemade mezcal. She poured me a shot and I drank it down. It was strong and rough, but very good. I had another one, and then another one… or maybe two.
We made a loop around town, dancing and partying. I'm not much of a dancer normally, but the mezcal helped. About half the parade had painted faces, or were in costume. We saw some pretty clever costumes, and some grotesque ones, including a demented leprechaun and an undead Mickey Mouse. It got dark, rained, and stopped again, but nothing dampened our spirits. The parade continued well after dark, and was still going strong when we got into the van to leave.
Our third morning in Oaxaca, we piled into a van for the short drive to Monte Albán. The "white mountain" was a major settlement and ritual center of the Zapotec culture and one of the biggest archaeological sites in Mexico. I was especially interested to see it, since Monte Albán was responsible in a roundabout way for my marriage.
My last year of college, I took archaeology as an elective. The professor, Dr. William Middleton, gave us lots of interesting exercises and readings from his fieldwork at Monte Albán. A few years later I was done with school, with plenty of money and time to travel but no one to go with. I remembered like archaeology class, so I signed up for a field school in Kampsville, Illinois. Shortly after arriving I met my unit partner for the week, my future wife, Michelle. We spent a week working eight-hour shifts in a one-meter by two-meter hole, and the rest is history!
Monte Albán is big! The main plaza and the dozens of temples around it are as big as some of the other Precolumbian sites I've been to, and they are only a small part of the whole. From the top of the hill, our guide showed us several other, still forest-covered hilltops that are also part of the greater Monte Albán complex and are still waiting to be excavated by future archaeologists.
It was a clear, beautiful morning when we visited Monte Albán, with the sky incredibly blue and full of big fluffy clouds. The guides explained that the lower tiers of the hill were residential and the central plaza at the top was for temples and rituals. This platform straddles the edge between the two levels.
We travelled around Mexico with a group from G Adventures, a Canadian company that I've used a couple of times in the past. They were fantastic, organized and committed to making sure we got lots out of the trip, and we made some great new friends!
Later that night, we dressed up and headed for the cemeteries around Oaxaca to take part in the central ritual of Dia de los Muertos: the graveside vigil. On the nights leading up to November 1, the people of Mexico return to the graveyards where their family members are buried. They sit around the graves (or in some cases, on the graves) and remember the dead.
I wasn't sure how to feel and how to behave around people at the cemeteries. We were told that it Dia de los Muertos wasn't a sad day, but I observed all kinds of reactions. Some people were sad or upset; others stoic. Some looked bored, and others looked like they were having a great time.
Every cemetery was crawling with celebrants and tourists, threading their way between the graves, stopping to take pictures, carrying plates of food. There was invariably a row of food trucks just outside the cemetery walls and bands and mariachis played on stages or roamed the graveyards, singing and playing their instruments.
Many of the graves were decorated beautifully. Flowers, especially lilies and marigolds, were common, and all bore candles. Some were decorated with sand art, small figurines, and plastic flags. Pictures of the deceased were common, but they might have been there all year round.
It was easy to spot the ones who were grieving: they stared silently at the graves, or off into space. Maybe their loss was recent; maybe they were mourning a beloved spouse or parent. When I asked if I could take a picture, they lowered their eyes or mumbled "no". I felt the most for the people who were sitting graveside alone.
Other people were clearly having fun: the atmosphere around some graves was more like a family reunion. People laughed and joke and ate and told stories; we saw one family with a TV on a little table, hooked to a generator and showing a New York Mets game.
And then there were the teenagers, for whom this was a boring yearly obligation. They sat sullenly, playing on their cellphones and waiting until they were excused to get some food and play carnival games.
Seeing people celebrating Dia de los Muertos was something I'm glad I did, but eventually I started to feel awkward about what I was doing. Most of the people I talked to were gracious and happy to chat and have me snap a picture or two, but I got the sense they would be happier when I moved on. I felt like the annoying gringo who came to crash everyone's party.
The next night was much better as we marched in a Dia de Muertos parade and shared dances and drinks with a village full of happy people.
I'm nearly finished processing the mountain of photos from Oaxaca! Most of them are up on Flickr now, here are a few more favorites from the second and third days of our trip, exploring Oaxaca's markets, churches and craftspeople.
Hotel Casantica, just north of Oaxaca's main square (zócalo), was our home base for the trip. It was pretty and clean and had decent amenities, and it was hopping the entire week we were there. I took this picture on the balcony overlooking the main courtyard.
---
Aside from mole and indigenous culture and handicrafts and a dozen other things, Oaxaca is known for chocolate. Oaxacan chocolate is rustic and unrefined, high in sugar and pretty delicious as a cold drink. We visited this chocolate factory with our group one day and went back the next day to buy a few blocks of chocolate for home.
---
We visited three churches in Oaxaca, including the cathedral, but my favorite was the Templo de Santo Domingo. A former Dominican monastery set in am imposing plaza, the Santo Domingo church looked equal parts house of worship and fortress. The sprawling monastery had been turned into a museum, centered on this arcaded courtyard.
---
All around Oaxaca, Dia de Muertos parades continued all week. The Santo Domingo church was a place of special focus and we watched several parades set off, led by marching bands.
---
I mentioned before that Oaxaca has managed to resist the American Halloween to a certain extent. In Mexico (or at least Oaxaca), children marching in parades don't ask for candy, they hand out candy to bystanders, even adult tourists frantically snapping pictures. After posing for a picture, this little boy reached into his pail and handed me something like Mexican smarties.
---
In the next installment we'll visit prehispanic ruins and head to the villages around Oaxaca to observe and take part in the central part of Dia de los Muertos, the graveside vigil.