So I just got back from eight days in Costa Rica. It had been a couple of years since I'd been out of the country, and I was getting a bit of wanderlust. Unlike my last trip (to Peru) I knew Michelle was coming with me. She'd never been out of the country (Ontario doesn't really count), so we picked a place that was exotic, but convenient. Flights are cheap, dollars are readily accepted, and they even share American plugs and voltages. In short, it was a perfect introduction to international travel.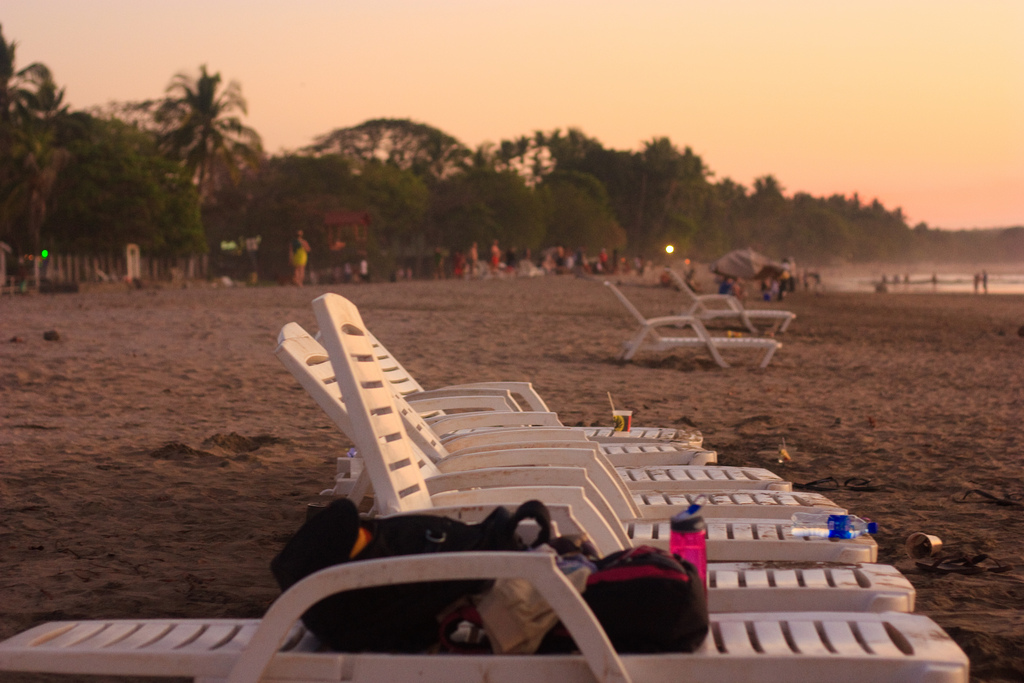 Costa Rica packs an awful lot of beauty into a very small space. Nothing in the country is more than five or six hours from San José, and possibilities run from amazing beaches to rainforests teeming with birds and monkeys, rivers with whitewater rapids, and international-caliber hot springs. Went spent eight days roaming around, mostly in the mountains near a volcano called Arenal, and at Tamarindo (a.k.a. Tamagringo) Beach. Needless to say, we had an amazing time.
Highlights include The Springs Resort and Spa near La Fortuna, a brand new and ridiculously lavish hot springs fed by volcanically-heated water. It was supposed to be the high season, but tourism is down this year and we had the place almost to ourselves. There might have been 25 guests in the entire five-story hotel. For 40 bucks apiece, we had the run of two dozen odd hot, warm, and cold pools (including some really amazing ones set into a hillside and surrounded by jungle) for two whole nights. Seriously, if you ever find yourself in Arenal, stop by for your sake and theirs. It must have cost a bundle to build, and I shudder to think they'll have to close up such an amazing resort for lack of patronage.
Tamarindo Beach was everything I imagined it to be – sunny, beautiful, laid-back, and chock full of gringos. Half the town is surfers, and the other half is burnt-out retired hippies, there to soak up the sun and wind down their years someplace cheap and permissive. I salute them.
I didn't take as many pictures on this trip as I usually do. Part of that was down to bad weather. Arenal was rainy and cloudy the whole time we were there, and our rainforest tour – which I expected to be a photographic bonanza – only yielded a few useful pics due to a combination of bad lighting and rain. The rest was the different dynamic of travelling with Michelle. In Peru I was travelling with a bunch of strangers, so I had no problem straying behind the group and snapping pictures like it was going out of style. In Costa Rica I had to be a little more considerate, so I only got 450 pictures in eight days. Tamarindo in particular had some great light around dinnertime, and sunsets were spectacular.
What worked: My Canon 50mm lens (great for soaking up the end-of-day light on the beach).
What didn't work: My tripod. I brought the lightest and cheapest one I had, but after a scary incident in the jungle where the head popped off the base and I almost dropped my camera 150 feet, I packed it away and never used it again. Definitely need to invest in something I can trust before the next trip.
What I wished I had: Two things: (1) a faster, longer lens. Shooting monkeys on my Tamron 70-300 (f/5.6 at the long end) in low light was a losing proposition, and the 1.7x teleconverter only made it worse; and (2) more time. If I had another couple of days to wait out the fog in Arenal, I would have been able to get more of the wildlife shots I really came for.