Zoos
Back in July, we went to Kentucky for a long weekend. On the way down, we stopped into a zoo we hadn't visited in almost ten years. We had last been to Cincinnati Zoo in 2010, when we went to visit my friend Andrew who lived there at the time. I remembered it being a beautiful place, very hilly and well-landscaped, with lots of old brick buildings. I'm happy to say that it was as lovely as I remembered, and even though it poured rain a good portion of our visit, we had a great time and took some good pictures.
The red panda exhibit was a lot like Detroit zoo's, with the pandas on a little island surrounded by a ditch and a low fence. The pandas were up in the trees and very visible, especially this lazy fellow who just wanted to sleep.
Apparently, a group of lemurs is called a conspiracy. 😂 These guys looked like they were up to something. I really like these kinds of exhibits, where the animals are at eye level, high up on a rocky island surrounded by a moat.
The name "Sunbittern" is appealing on many levels. Just saying it makes me think of morning in some dappled jungle, sunlight streaming through the leaves and the scent of fruit and rain in the air. Also, "bittern" makes me think of "bitters", so I picture a veranda and a pitcher of gin and tonics. None of this says anything about the bird or the zoo, so let me tell you that Cincinnati has a lovely walk-through jungle aviary and this guy lives there.
Fiona is, of course, the reason we came. She captivated the world (or maybe just the Midwest?) a few years ago, as the first prematurely-born hippo baby to ever survive in captivity. The zoo has really marketed the hell out of her, which is appropriate because she is adorable. You'll be happy to know that you can buy a #TeamFiona t-shirt in the gift shop. It was raining like crazy when we came through Fiona's exhibit and there was a crowd of people hiding under the roofed area in front of her. There was no roof over Fiona's quarters and she seemed to alternate between stoic and annoyed. Resting her head on her mama's back, she gave the crowd a wistful hippo smile.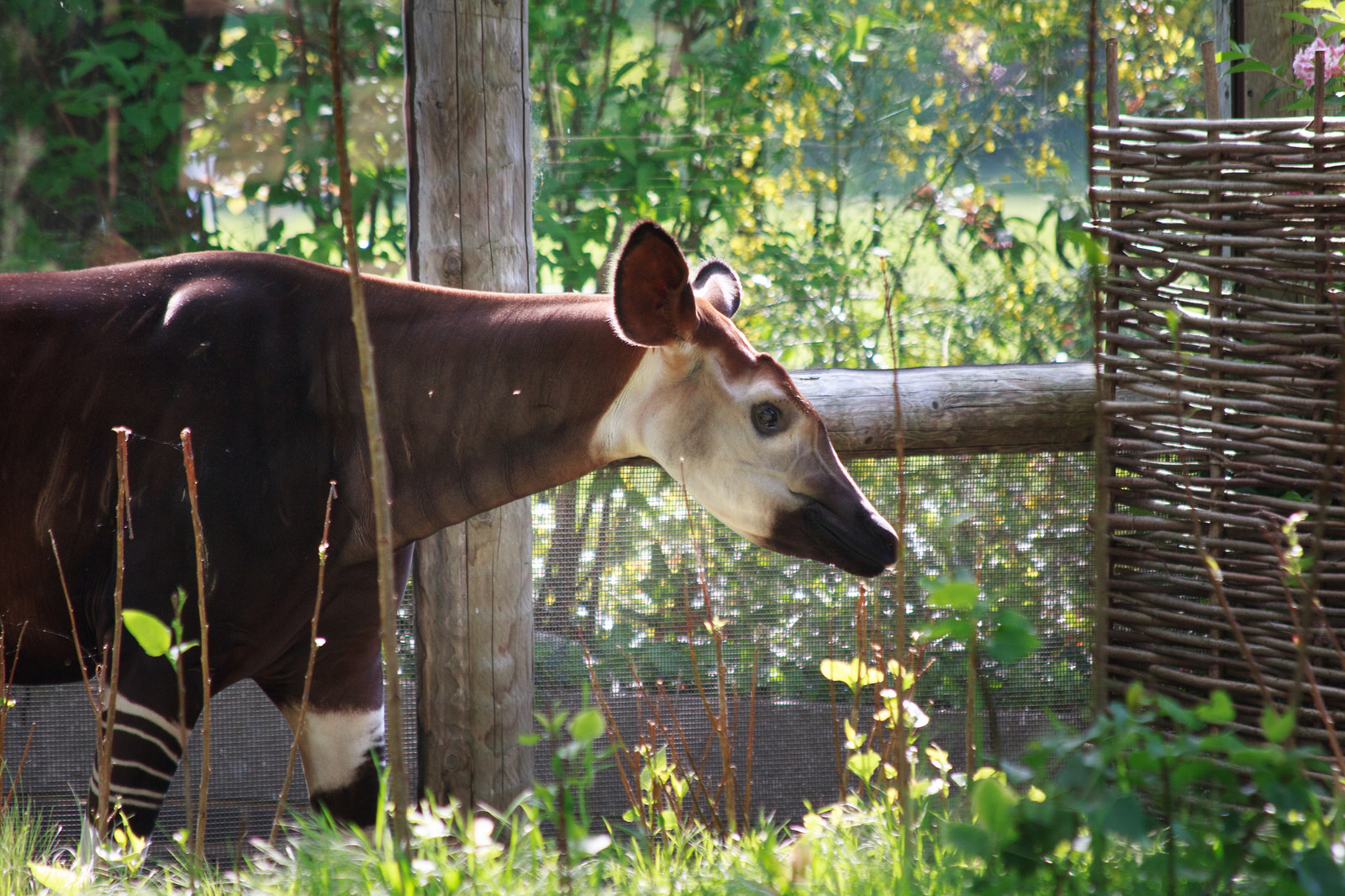 Following up on my post about the Royal Menagerie at the Tower of London, I wanted to write about its descendant, the Zoological Society of London (or Z-as-in-Zed-S-L) in Regent's Park.
London Zoo is a bit out of the way by public transportation. The Underground skirts the edge of Regent's Park, making a single stop at the southern gate before veering off north for Camden. From there you board a crawling bus headed up some charmless back street, or take a pleasant (but very long) walk to the northern edge of the park. Michelle and I did both one May afternoon and got to the zoo about an hour before closing time.
ZSL isn't a big zoo, but it manages an impressive collection. The exhibits are all very modern and as natural as they can be given the limited space. We spoke to a few of the keepers and they seemed enthusiastic and knowledgeable.
As is often the case in London, ZSL has some unique history. It was the first zoo opened specifically for scientific research; for its first twenty years it wasn't even open to the public. Charles Darwin became a fellow of the zoo in 1839 and one resident, an orangutan named Jenny, inspired him with her near-humanity.
With limited time to look around, there was one animal I knew I must see: the okapi. It's not much to look at, but this awkward, donkey-like ungulate, native to the Ituri Rainforest of central Africa, is famous for managing to elude science until 1901.
Here are a few more pictures from the San Diego Zoo. It was such a big park — we spent an entire day there and I took almost 500 pictures — so there will be a part 3 later.
Jaguar ⤴
I snapped these in a hurry and honestly didn't expect anything to turn out. The light wasn't great, but I really liked how the jaguar was partially hidden by the log. It looks almost like it's stalking its prey.
San Diego Zoo is big. Maybe not the largest zoo we've been to in terms of physical size, but definitely in "animals-per-hectare" (my new metric for this sort of thing). I flagged 111 photos to process, and it was taking me so long I decided to take a break and move on to other sets. Here are a few photos from the first ~1/3 of the day.
Koalas ⤴
San Diego Zoo has a huge, repeat, huge colony of koalas. I was unprepared for just how many they were. This was our first stop of the morning and the light was beautiful. The sun gave them some wonderful edge lighting. I think the koalas have recently given birth, so as of April the exhibit is probably crawling with babies.